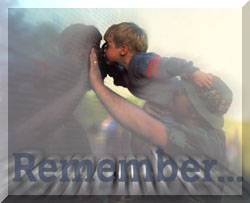 Lest We Forget...






Hey Gunny! I care what happened to our MIA's!
This is the site where you can adopt a POW/MIA. It's very simple and you can specify a certain service, home state, etc. Go here first.

Mooncrest's Operation Just Cause Switchboard
This site provided many of the graphics on this page. This is an outstanding resource for building an POW/MIA Rememberance page.

POW/MIA Information Repository Links
This is an amazing collection of links giving you access an enormous amount of information on POW/MIA's. It also provides e-mail links to a variety of official and unofficial sources.

The Wall on the Web
This is a great data base search system for all the names on the Viet Nam Memorial Wall.

The Viet Nam Casualty Search Page
Another very good data base for finding information on POW/MIA's.

The POW Network
This is very nearly the definative site for information on POWs and MIAs, and the organizations which provide information and action in their support.



This link will take you to the Official OJC Newsletter site, "The Moonduster Chronicles".





Return to Top's Home Page.

LE FastCounter